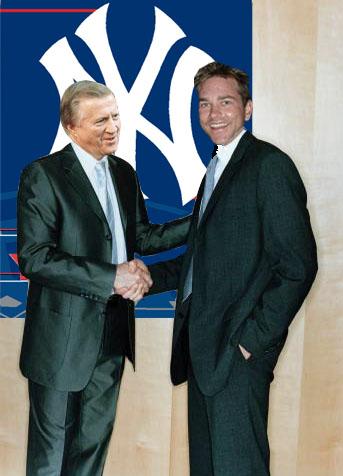 Owner George Steinbrenner and Eppler shake on the historical deal.
Five Os outfielder Mike Eppler was once again selected #1 overall in the 2003 Major League Baseball draft held on Tuesday. This marks the third time he has been selected #1 overall and sixth time he has been taken in the top 10. Eppler has yet to sign with any of the teams that draft him due to his exorbitant 450 million dollar signing bonus he demands. At the last minute of 7:33 AM Eastern Central time The New York Yankees traded Derek Jeter, Roger Clemens, Jason Giambi, and two minor league players to be named later to The Tampa Bay Devil Rays in order to obtain the top pick. When asked about the excessive signing bonus demanded, George Steinbrenner quoted, "Jeter who? It is obvious to anyone who has been to a Land O Lakes game or read any of his quotes off the website, this kid can play. Apperently there is this Kozlowski guy who I have seen video of him hitting against. Lets just put it this way, after I saw the tape, the $450,000,000 check was signed and Clemens had a bus ticket to Tampa." Eppler continues his Land O Lakes dominace and is predicted to continue playing while final details of the contract are worked out.




Yankees War Room chaos moments before draft

Here, in an extremely rare behind the scenes peek in the Yankees war room on Draft Day, drama was building. Joe Torre, George Steinbrenner and others look on as Mike Eppler justifies why his massive $450,000,000 signing bonus is necessary. Amid heated talks, Eppler was quoted, "It's really just a matter of putting the goods on display. My physical attributes are unmatched, even an idiot like Steinbrenner knows that. Once the shirt was off, Steinbrenner's wallet was as loose as a cheerleader on prom night."
The record breaking deal will place the average regular season Yankee ticket at $975. A hot dog and medium soda will top out at $84.50. "People have been watching me abuse guys like Kozlowski and Henshel in Lakes ball for years with no ticket price... now it is going to cost a grand."